The Jetboil MightyMo is a simple, lightweight 'sit on top' canister stove. It fits onto bog standard screw-on gas canisters, be that Jetboil's own or alternatives from other brands. It doesn't come with any sort of pot, making this Jetboil's first move away from the integrated cooking systems for which the company is famous. The stove has an attached piezo ignition system and comes with a little storage bag and fold out tripod legs that attach to various size canisters in order to improve its stability.
In use
The MightyMo will fit one of Jetboil's flux ring pots should you have one, but they are quite pricey so most people will use it with whatever camping cookware they already have. For the testing period I have been trying it with an MSR 1.5 ltr stainless steel pot, an aluminium Primus solo pot, and with a 650 and a 900 ml Alpkit titanium pans.
All sit-on-top stoves can be a bit unstable, particularly when using bigger pans or small gas canisters. In this regard the canister legs that come with the MightyMo help, although I still once managed to knock over a pan of water while cooking in the entrance of a solo tent. I didn't knock the entire stove over, just the pot slid off; uneven ground didn't help but I think the ease with which that pot could slide is increased by the design of the stove's three fold out arms that support a pan. They are folded over at the top, meaning that there is a small flat piece of metal on each one that the pan sits on. Compared to toothed pan supports this seems to decrease the friction under the pan and I've noticed, particularly with the smallest titanium cook pots, that you need to be very careful not to disturb it. With bigger pans (or perhaps different metals) this doesn't seem to be quite such an issue.
If you want a stove which can adjust from roaring power to a gentle simmer, then the MightyMo is well worth considering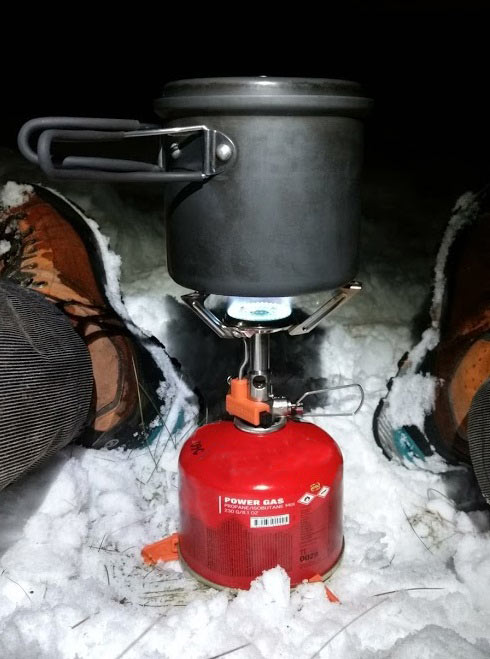 The stove has a regulator valve which Jetboil claim allows you to simmer on it better than with other gas stoves. I think the control is very good, you can set it very low and not have the stove sputter out. It does take a good few twists of the control switch to get it blasting out at full power though. On winter overnights my camp cookery doesn't extend much beyond boiling water for ready meals and hot drinks, so that full power mode has been more useful than the gentle simmer, but for Sunday morning bacon fry ups, this is your stove. The stove also works surprisingly well in sub-zero temperatures, including when the canister has been sitting in snow. Jetboil say the regulator means consistent performance down to 20°F, which is about -7 in non-antiquated, non-American speak.
The MightyMo needs to be sheltered from all but the gentlest of breezes, and I've had it blow out a number of times. Being a tall-ish sit-on-top stove, this isn't very easy as a windshield needs to be rather high. I constructed one out of an alumimium food tray (2 for 99p from Wilko so if your first attempt goes wrong you can try again!) and Gorilla tape and it has done the trick so far, but it weighs an additional 41g. There are better stove designs out there for typical windy UK conditions if you regularly cook without the protection of the vestibule of a tent or similar.
Inbuilt ignition
I'm so far unconvinced by the piezo ignition. I've owned one of the original Jetboil PCSs for over a decade and the push-button ignition on that only packed up in the last couple of years, so I know that they can work well for many years; nevertheless lots of people break them much quicker than this, and it seems they are the most delicate parts of many stoves. The piezo on the MightMo works great – when it works - but quite soon into the testing period it started working only intermittently. Oddly, I could see that it was still making a spark but this was not lighting the gas. I re-bent the wire that emerges through the burner head, probably only by 1mm, and that seems to have it working again, but I think it would be foolish to go out with this stove without a lighter or two also in your pack. Unlike the Jetboil stoves that are stored inside their cooking pots when not in use, the MightyMo just has its cloth bag for protection, and I suspect it was when packed away in my rucksack that the ignition wire moved enough to stop it from working.
Weight
The stove itself weighs 97g (Jetboil say 95g) and with the bag and the canister legs it comes to 134g. That's in the ballpark for a quality small canister-top gas burner these days, and a similar overall weight to the new Pocket Rocket that we reviewed recently (see here). Is the MightyMo an 'ultralight' stove? Well, not really. While hardly heavy on its own, the whole MightyMo kit plus my DIY windshield and 900ml titanium pot weighs about the same as the Jetboil integrated systems of around that sort of size - but without the added efficiency of an insulated pot with a heat exchanger. But, of course, then you would lose the flexibility of the MightyMo working with all sorts of different pots and even frying pans. Overall, the weight is far from being a deal breaker.
Summary
The MightyMo's RRP is £60; yes it's well made and performs well, but it's worth pointing out that many similar gas stoves sell for a lot less, including some that also weigh less. Compared to other fuel types, gas canister stoves are simple, clean and unfussy to use, although they can often be a bit "on-or-offee". If you want those advantages but also a stove on which you can simmer or fry gently, then the MightyMo is well worth considering. Other gas stoves are arguably better in terms of weight or water boiling efficiency, but the MightyMo definitely holds in own in terms of convenience and flexibility.
Jetboil say:
Introducing the ultra-stowable, single burner stove that unleashes the power of a professional range. At 3.3 oz it's almost impossibly small but features a mighty 10,000 BTU burner and four full turns of the regulator valve spindle for simmer control unlike anything else in the backcountry.
Weight: 97g (excludes fuel stabilizer, wind guard, bag etc)
Power: 10000 BTU/h / 3 kW
Fuel Regulator: Yes
Group Size: 1-2 People
Boil Time: 3m 15sec per 1 liter in 5L Flux Pot (avg. over life of 1lb propane can)
Unbeatable simmer control
Regulated for consistent performance down to 20°F
Convenient, reliable push-button igniter
Small, compact design
Improved efficiencies with compatible Jetboil Accessories
For more info see jetboil.johnsonoutdoors.com
UKH Articles and Gear Reviews by Toby Archer