For the week from 13/Apr/14 to 20/Apr/14 we had 1,564 votes for 547 photos by 334 different users (previous weeks or previous years).
The 'ranking' is calculated from the average rating of photos in each gallery, as well as the total number of votes made.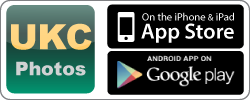 Get the Top 10 Photos each week as a feed for RSS browsers


Click on the small images to view the full size versions, or use the cooliris browser add-on for a full-screen slideshow.
1st

Cadini sunset wide angle


© James Rushforth, Oct 2013

2nd

Wanaka by night.


© ali k

3rd

Wild horses near Ingleborough


© milus, 10 Apr 2014

4th

The Light


© mr rob, Sep 2013

5th

Keswick...morning light.


© shaun walby, Sep 2013

6th

Sunset at Stanage


© ladoza, 16 Apr 2014

7th

Sunshine after heavy rain


© AllanMac, Nov 2012

8th

Cadini sunset


© James Rushforth, Oct 2013

9th

The much photographed Blean tarn, looking out toward the langdale pikes


© CrushUnit, 11 Apr 2014

10th

Dreaming of summer - Geisler / Stevia Group


© James Rushforth, Jul 2013