In this day and age we are presented with a lot of choice when it comes to gear, but there are few categories with quite as much choice as fleece - there's tonnes of them! Midlayers are a staple part of virtually all outdoor persons' diets (so to speak), with most owning at least one and many owning a whole lot more. Their abundance means that there is a whole lot of competition and it takes a real pearl to shine. So the big question: how shiny is Montane's offering, the Spider Hoodie…?
The Spider Hoodie features PONTETORTO® Tecnostretch fabric, which could be the most sophisticated sounding name I've ever heard for a fleece; however, what does it actually mean? I had a quick look at the Pontetorto website. It advertised the following key features - stretch, quick-dry, and thermoregulation/insulation - which, rather disappointingly, are pretty standard for most fleeces. However, that's just me being unduly cynical (sorry…) and now I'll get on to the practical reality.
The Technostretch fabric is a luxurious feeling fleece and in this particular model features a CORDURA face fabric. The result is a hard-wearing and durable feel. The backer (i.e. the inner fabric) is a grid style fleece that increases the breathability and, whilst this isn't mentioned on the Portetorto website, traps a bit of warm air on the way through. At 310g for a size M it's mid-to-heavyweight for a close-fitting fleece, and in terms of warmth I'd say this is at the toastier end of the spectrum too. As for durability I'd say its also at the more robust end, likely to take a good hammering. The result is that it's not necessarily the lightest, but you can't have everything.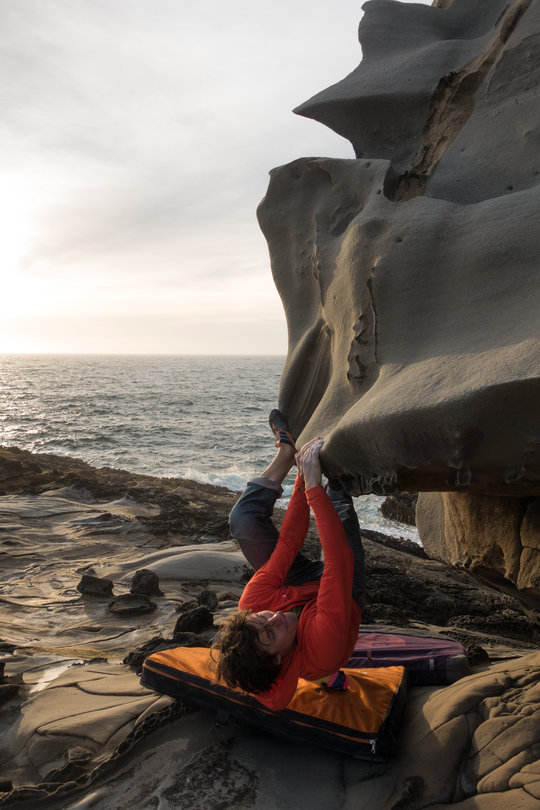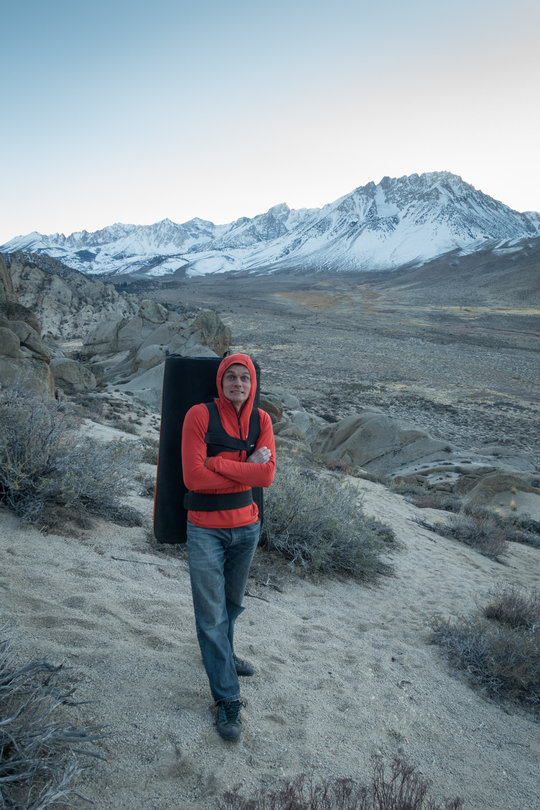 The Spider Hoodie in use in two highly contrasting environments
The Spider Hoodie features an 'athletic mountain' fit, which translates to slim and close fitting, which helps when you're layering it underneath other things. It's worth mentioning that the intended use is alpine climbing, however I must admit to having primarily used this for bouldering whilst out on a recent trip to Bishop, California. I see the Spider Hoodie as perfectly suitable for multi-discipline use; furthermore I have done plenty of alpine climbing previously, so should be well qualified to comment on some of the more specialist features.
When it comes to the fit I would have thought I'd be almost exactly who this top was designed for. I am - I think - relatively skinny, about average in terms of shoulders, and with a long set of arms. Even I find the Medium quite snug, so much so that it results in a bit of lift when raising my arms. Perhaps the Large would have resolved this, so for those interested in purchasing I would suggest to try before you buy, just to make sure.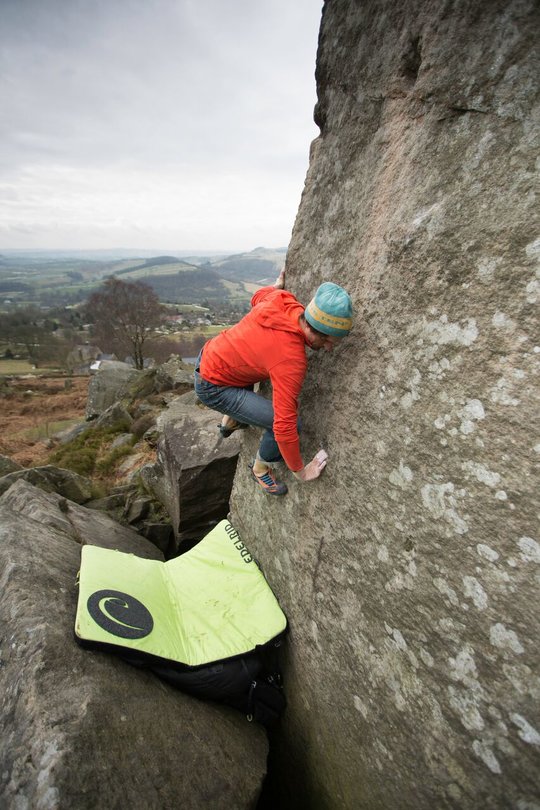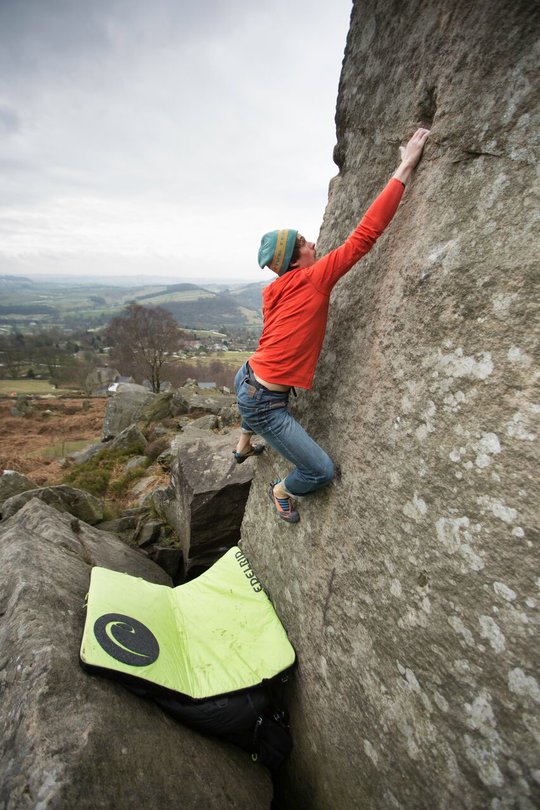 Lift in action: when raising your arms above your head the Spider Hoodie has the tendency to rise up
When it comes to the fit I have a particular gripe with the cuffs. Made of a non-elastic material, they are essentially impossible to raise beyond your forearms. I tried to think of the reasoning behind this: perhaps this was seen as desirable if you were alpine climbing and you didn't want your sleeves to raise up whilst you had another outer layer on? Perhaps it's because you lose a lot of heat through your wrists, hence the design was to make sure there's always material kept over them? Whilst both of these explanations are possible, they are equally quite absurd. On hot walk-ins virtually everyone raises their cuffs up above their elbows, but with the Spider Hoodie this is simply not possible. Being that I quite like climbing with my sleeves up, this feature seems something of an oversight.
Initially I was cynical about the placement of the pocket, located beside your lower ribcage as opposed to above your waist, but given a bit of use (mostly for keys) I actually came to like it. The fact it opens down and not out means things are less likely to drop out of it (which is clearly great) and the fact it's that little bit higher than a standard hand pocket means it's far easier to access with a harness or rucksack on, or with multiple layers on over the top (i.e. in an actual alpine/winter environment). As such this pocket gets the thumbs up. Another feature that gets the thumbs up is the hood, which is well cut, being snugly close-fitting without restricting movement. It's sized to go under a helmet rather than over the top.
Overall
The Spider Hoodie is a durable, well made fleece which is at the warmer end of the spectrum. The addition of the hood makes it ideal from a winter climber/alpinist's perspective, but the lack of elastic on the cuffs is a drawback both to winter and rock climber alike. The fit is also a little on the tight side for the size, so be sure you try before you buy. Price-wise £100 ain't cheap and no doubt there'll be countless people commenting on how you could buy something for far less, but it's well made and with the Cordura face fabric likely to last. But at the end of the day it all comes down to the fit, which on me at least is poor.
Montane say:

The Montane Spider Hoodie is an all new lightweight and technical alpine hooded fleece pull-on designed for climbers, by climbers.
High performance is hardwired into the inherent materiality of this lightweight and quick-drying midlayer. Its high stretch Pontentorto Tecnostretch fabric incorporates a CORDURA face for enhanced durability whilst fitting close to the body through a full range of movement – ideal for vertical terrain, where high-effort, dynamic manoeuvres are commonplace.
Price: £100
Sizes: S - XXL (men's sizing only)
Weight: 310g (size M)
PONTETORTO® Tecnostretch is a mid-weight, durable and fast drying fleece, with high stretch throughout to improve mobility
Main fabric incorporates a CORDURA® face for enhanced durability
Low profile micro-flatlocked sewn seams throughout for extra comfort and durability
UKH Articles and Gear Reviews by Rob Greenwood - UKClimbing